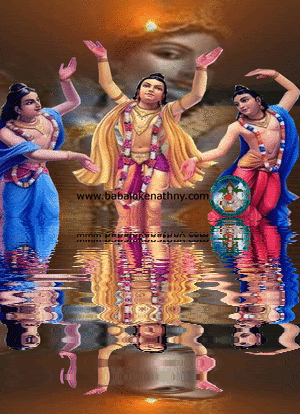 om tat sat iti nirdeso
brahmanas trividhah smrtah
brãhmanãs tena vedãsca
yajnãsca vihitãh purã
aum tat sat - this has been declared the threefold symbol of Brahman. By this , the brahmins, the Vedas, and the yajnas ( sacrifices) were created in ancient timees. (17:23)
Aum tat sat - este foi declarado o símbolo tríplice de Brahman. Por isso, os brâmanes, os Vedas e os yajnas (sacrifícios) foram criados nos tempos antigos. (17:23)
aum alone is thrut
om sozinho é a verdade
aum is the holy prayer, that people used in ancient times
aum é a prece que as pessoas usavam nos tempos ancestrais
aum is the manifestation of the formless supreme Almiighty Father
Aum é a manifestação do supremo Pai todo poderoso sem forma
A realized person, a real lover of the formless Godd , is a brahmana.
Uma pessoa realizada, um verdadeiro amante de Deus sem forma, é um brahmana.
aum is the three vedas rik means word or the object, yajur means to be associate, and , sama the harmony, equality.
Aum é os três vedas rik significa palavra ou o objeto, yajur significa ser associado, e, sama harmonia, igualdade.
yajnas the spiritual experience om tat sat
Yajnas a experiência espiritual om tat sat
yajna , fire cerimony sacrifice is the breath
Yajna, o sacrifício, a cerimônia de fogo é a respiração
this is the life of God
Esta é a vida de Deus
a -the imperishable soul, formless and omnipotent, the indwellinf Self, God
a-
alma imperecível, sem forma e onipotente, o Eu interior, Deus
u- the conscious, supercounsciouss and cosmic conscious state the creats speech for the thoughts and before, the breath
U - consciência , superconsciência e estado consciente cósmico o discurso criados no pensamentos anterior , a respiração
m- the gross physical body and the grosss qualitie of anything , the body
M- o corpo físico grosseiro e a qualidade bruta de qualquer coisa, o corpo
puja viddhi mantra - sacred chant practiced in the nitya karmani or Hindu rituals
Puja viddhi mantra - canto sagrado praticado no nitya karmani ou rituais hindus
navakelevara :one perceives the darshan of Lord Jagannath in the world and is the enthralled with Jagannath experience, the renewal of body and life.
navakelevara: percebe-se o darshan do Senhor Jagannath no mundo e fica entusiasmado com a experiência de Jagannath , a renovação do corpo e da vida.
swargadwar : through sadhana, one transcends the lower cchakras and eventually the door to the Brahman located in the sahasrara is opened.
Swargadwar: através do sadhana, um transcende o cchakras inferior e, eventualmente, a porta para o Brahman localizado no sahasrara é aberto.
swarga : one reaches the real attainment of heaven
Swarga: um atinge a realização real do céu
The guru is Lord Jagannath, is One in trinity
O guru é Senhor Jagannath, é um na trindade
Guru Brahma, Guru Vishnu, Guru devo Maheshwara,
Guru sakshat, param Brahma, tasmai shri guravay namah
Our creation is that guru (Brahma-the force of creation); the duration of our lives is that guru (Vishnu-the force of preservation); our trials, tribulations, illnesses, calamities and the death of the body is that guru (devo Maheshwara-the force of destruction or transformation). There is a guru nearby (Guru Sakshat) and a guru that is beyond the beyond (param Brahma). I make my offering (tasmai) to the beautiful (shri) remover of my darkness, my ignorance; (Guru) it is to you I bow and lay down my life (namah).
Nossa criação é daquele guru (Brahma - a força da criação); A duração de nossas vidas é aquele guru (Vishnu - a força da preservação); Nossas provações, tribulações, doenças, calamidades e a morte do corpo é aquele guru (devo Maheshwara - a força de destruição ou transformação). Há um guru próximo (Guru Sakshat) e um guru que está além do além (param Brahma). Eu faço minha oferenda (tasmai) para o belo (shri) removedor de minha escuridão, minha ignorância; (Guru) é a você que me inclino e dou a minha vida (namah).