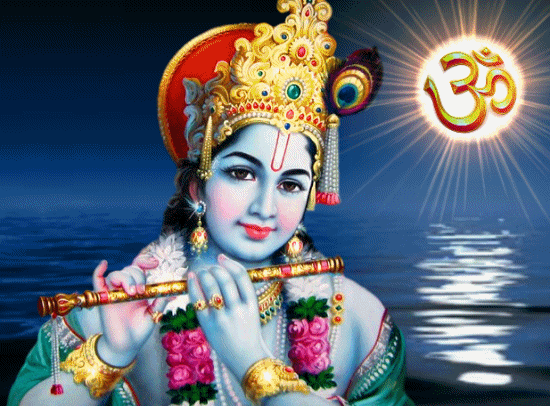 asatyam apratistham te
jagad anisvaram
aparasparasambhutam
kim anyat kãmahaitukam
They say that the universe is without truth, without a basis, and without a Lord, brought forth by union ( of male and female), hence conceived in lust- what is there besides this?( 16:08)
Eles dizem que o universo é sem verdade, sem uma base, e sem um Senhor, concebido pela união (do masculino e feminino), assim concebido na luxúria - o que existe além disso? (16:08)
They do not belive in the existence of our creator, the Lord, the supreme Almighty Father.
Eles não acreditam na existência de nosso criador, o Senhor, o Pai Supremo Todo-Poderoso.
They do not faith in God, or His words.
Eles não têm fé em Deus, ou Suas palavras.
These people are dissatisfied, angry, proud, cruel, and insincere, without a higher purpose in life, with no supreme goal to achieve.
Estas pessoas estão insatisfeitas, irritadas, orgulhosas, cruéis, e insinceras, sem propósito maior na vida, sem uma meta suprema de alcançar.
Only God and God's love are real; everything else is unreal and transitory.
Só Deus eo amor de Deus são reais; tudo o mais é irreal e transitória.
The Sage Patanjai explain in The SadhanaPada, Sutra 15
O Santo Patanjai explica no Sadhana Pada, Sutra 15
Miseries are categorized into four groups:
Misérias são classificados em quatro grupos:
parinama dhukha- miseries on account of change or modification.
misérias por conta da alteração ou modificação.
tapa dukha- miseries due acute anxiety or afflictions
misérias causadas pela ansiedade ou aflições agudas
sansara duhkha - suffering from impressions.
que sofre pelas impressões.
guna-vritti virodha duhkaha- the gunas (qualities) and thoughts
as gunas (qualidades) e pensamentos
Live in the body, but be compassionately detached.
Viva no corpo, mas seja compassivamente desapegado.
Love God, pray from your heart, if you try sincerely with implicit faith, then sucess will be at hand.
Amar a Deus, orar com o coração, se você tentar sinceramente com fé implícita, então o sucesso estará na mão.
jai jagannath
jai gurudev