samam kãyasirogrivam
dhãrayann acalam sthirah
sampreksya nãsikãgram svam
disas cã 'navalokayan
prasãntãmã vigatabir
brahmacãrivrate stitah
manah samyamya maccitto
ykta ãsita maparah
With body, head, and neck held firmly straight and still, and with the attention between the two eyebrowns, not looking about in every direction. (13)
the mind is tranquil, free from fear and anxiety ( a brahmachari ). May this yogi direct all thoughts to Me and seek Me deeply.(14)
Com o corpo, cabeça e pescoço firmemente em linha reta e ainda, com a atenção entre as duas sobrancelhas, não olha para todas as direções. (13)
a mente está tranqüila, livre do medo e da ansiedade (brahmachari). Possa este yogi direcionar todos os pensamentos para Mim e procurar-Me profundamente (14).
Brahmacharya : abstinence or perpetual celibacy, sense control; bramacharya means to roam ( char) in God ( Brahma), metaphorically to live in constant God Consciousness.
Brahmacharya: abstinência ou perpétuo celibato, controle dos sentidos; bramacharya meio de vagar (char) em Deus (Brahma), metaforicamente, a viver na consciência de Deus constante.
Brahmachari : one who observes the vow of bramahcharya.
"He who follows the scriptures (dharma) completely and / or "onewho guides others to follow them. "Thus, the word impliessomething more than "teacher", also means that following what he preaches. For there we see that there are two basic aspects of the meaning of acharya: on the one hand, he is one who teaches, on the other hand, is an example of what he teaches.
"aquele que segue as escrituras (dharma) completamente" e/ou "aquele que orienta os outros a segui-las". Assim, a palavra implica algo mais do "professor"; significa também aquele que segue o que ensina. Por aí se vê que há dois aspectos básicos do significado de acharya: por um lado, ele é aquele que ensina; por outro, é o exemplo daquilo que ensina.
Sampradaya é uma tradição de disciplinar sucessoria servindo como canal espiritual e encerrando uma filosofia comum abraçada por muitas escolas, grupos, ou linhagens de guru (chamada parampara).
Sampradaya is a tradition of serving as a successor disciplinespiritual channel and encompassing a common philosophyembraced by many schools, groups, or guru lineages (calledparampara).
Ao receber a iniciação (diksha) por um parampara de um guru vivo, a pessoa automaticalmente pertence a seu proprio sampradaya.
Upon receiving the initiation (diksha) by a living guruparampara, one automatically belongs to its proper Sampradaya.
Iniciação é o único meio pelo qual se pode se tornar um membro de um sampradaya; não se pode tornar-se membro por nascimento.
Initiation is the only means by which one can become a member ofa Sampradaya, one can not become a member by birth.
Advaita literalmente significa "não dois", não dual; é um sistema filosófico que sustenta a não realidade, ou ilusão, de tudo aquilo que não seja a Consciência Suprema, Eterna e Infinita (Brahman).
Advaita literally means "not two", not dual, it is a philosophical system that supports not reality, or illusion, of everything that is notthe Supreme Consciousness, Eternal and Infinite (Brahman).
Adi Shankara (788-820). Shankara expôs suas teorias baseadas amplamente nos ensinamentos dos Upanishads e de seu guru Gaudapada.
Adi Shankara (788-820). Sankara expounded his theories largely based on the teachings of the Upanishads and his own guruGaudapada.
Através da análise da consciência experimental, ele expôs a natureza relativa do mundo e estabeleceu a realidade não dual ou Brahman, na qual Atman (a alma individual) ou Brahman (a realidade última) são absolutamente identificadas.
Through analysis of experiential consciousness, he exposed therelative nature of the world and established the non-dual reality of Brahman in which Atman (individual soul) and Brahman (ultimate reality) are identified absolutely.
Não é meramente uma filosofia, mas um sistema consciente de éticas aplicadas e meditação, direcionadas à obtenção da paz e compreensão da verdade.
It is not merely a philosophy, but a conscious system of appliedethics and meditation aimed at achieving peace and understanding of truth.
Adi Shankara acusou as castas e seus rituais de insignificantes e tolos, e em sua própria maneira carismática, suplicou aos verdadeiros devotos a meditarem no amor de Deus e alcançarem a verdade.
Adi Sankara denounced caste and meaningless ritual and itsfools, and his own charismatic manner, exhorted the true devoteeto meditate on God's love and apprehend truth.
"Vendanta" significa "a meta dos Vedas" ou "a significação última dos Vedas".
"Vedanta"means "the goal of the Vedas"or"the ultimate significance of the Vedas. "
Ao Vedanta também se aplica a expressão sânscrita "Uttara Mimamsa" – última investigação.
Vedanta also applies to the Sanskrit expression "Uttara Mimamsa"- latest research.
É o sistema clássico da filosofia hindu e tenciona a conciliação entre as diversas tendências manifestas nos Vedas e nos Upanishads.
It is the classic system of Hindu philosophy and intends toreconcile the various trends evident in the Vedas and Upanishads.
É uma espécie de espirtualismo monista, no qual o Eu individual – o Atman – é reduzido à Brahman, a única e universal realidade, fundamento ontológico do cosmos.
It is a kind of monistic espirtualismo, in which the individual self - theAtman - is reduced to Brahman, the one universal reality, the ontological foundation of the cosmos.
Não se pode confundir o Atman – princípio divino e universal no homem – e por isso mesmo identificado com o Absoluto, com a Jiva, a alma individual, distinta do nosso verdadeiro Eu.
One can not confuse the Atman - and universal divine principle in man - and therefore identified with the Absolute, with the Jiva, theindividual soul, separate from our true Self
Jiva é imerso na ignorância e identifica o Atman com seu corpo, mente e sentidos.
Jiva is immersed in ignorance and identifies Atman with yourbody, mind and senses.
Segundo Shankara: "E aquela alma individual deve ser considerada um mero aspecto do Eu supremo, como o reflexo do sol na água; não é diretamente aquilo, mas tampouco é outra coisa. (...) e aquele 'aspecto' é o efeito da Ignorância".
According to Shankara: "And That individual soul is to BeConsidered mere appearance of the highest Self, like the reflexionof the sun in the water, That It Is Neither directly, nor a differentthing. (...) and that '' appearance 'is the effect of nescience "
Brahmacharya ( Devanagari : ब्रह्मचर्य sob a tutela de Brahman )
Brahmacharya (Devanagari: ब्रह्मचर्य under the tutelage of Brahman)
Brahmacharya é o termo usado para a prática do celibato voluntário, e sincero, com pureza da mente que é geralmente considerado um requisito essencial para a prática espiritual ao disciplinar o uso e a conservação da energia sexual

.
Brahmacharya is the term used for the practice of voluntary celibacy, and sincere, with purity of mind which is generally considered a prerequisite for spiritual practice to discipline the useand conservation of sexual energy.
Na tradição Hindu ele recebe um preparo e é iniciado por um Satguru como Bramacharya ( Bramachari ou Bramacharini ou Sannyasi ( Swami).
In the Hindu tradition he gets some training and is started by aSatguru as brahmaccarya (Brahmachari or Bramacharini or Sannyasi (Swami).
Na Kriya Yoga Yogacharya é o professor autorizado diretamente pelo Satguru para ensinar as técnicas de Kriya Yoga e iniciar na Linhagem do Guru ( sampradaya)
In Kriya Yoga, the teacher Yogacharya is authorized directly by theSatguru to teach the techniques of Kriya Yoga and the start of theGuru Lineage (sampradaya)
Several initiations into the path of brahmacharya and sannnyasa were conducted at the Gurukulum under the direction of Paramahamsa Prajnananandaji.
Um Brahmachari é homem e brahmacharini uma mulher. O Brahmachari deve ser puro em pensamento, palavra e ação.
Brahmachari is a man and a woman brahmacharin. TheBrahmachari must be pure in thought, word and deed.
Estas características correspondem às noções ocidentais da vida religiosa, tal como praticada em ambientes monásticos, mas é praticado por casais e famílias também.
These characteristics correspond to Western notions of religious life as practiced in monastic communities, but is practiced by couples and families as well.


Brahmacharya é discutido em Patanjali é Yoga Sutras como um dos cinco Yamas, os compromissos fundamentais para a prática do yoga. De acordo com o Yoga Sutras, o resultado final, ou os frutos daquele que praticou Brahmacharya até a perfeição é ilimitada de energia ou vitalidade.
Brahmacharya is discussed in Patanjali's Yoga Sutras as one of thefive Yamas, the fundamental commitments to practice yoga.According to the Yoga Sutras, the end result or fruit from thatpracticed Brahmacharya to perfection is boundless energy orvitality.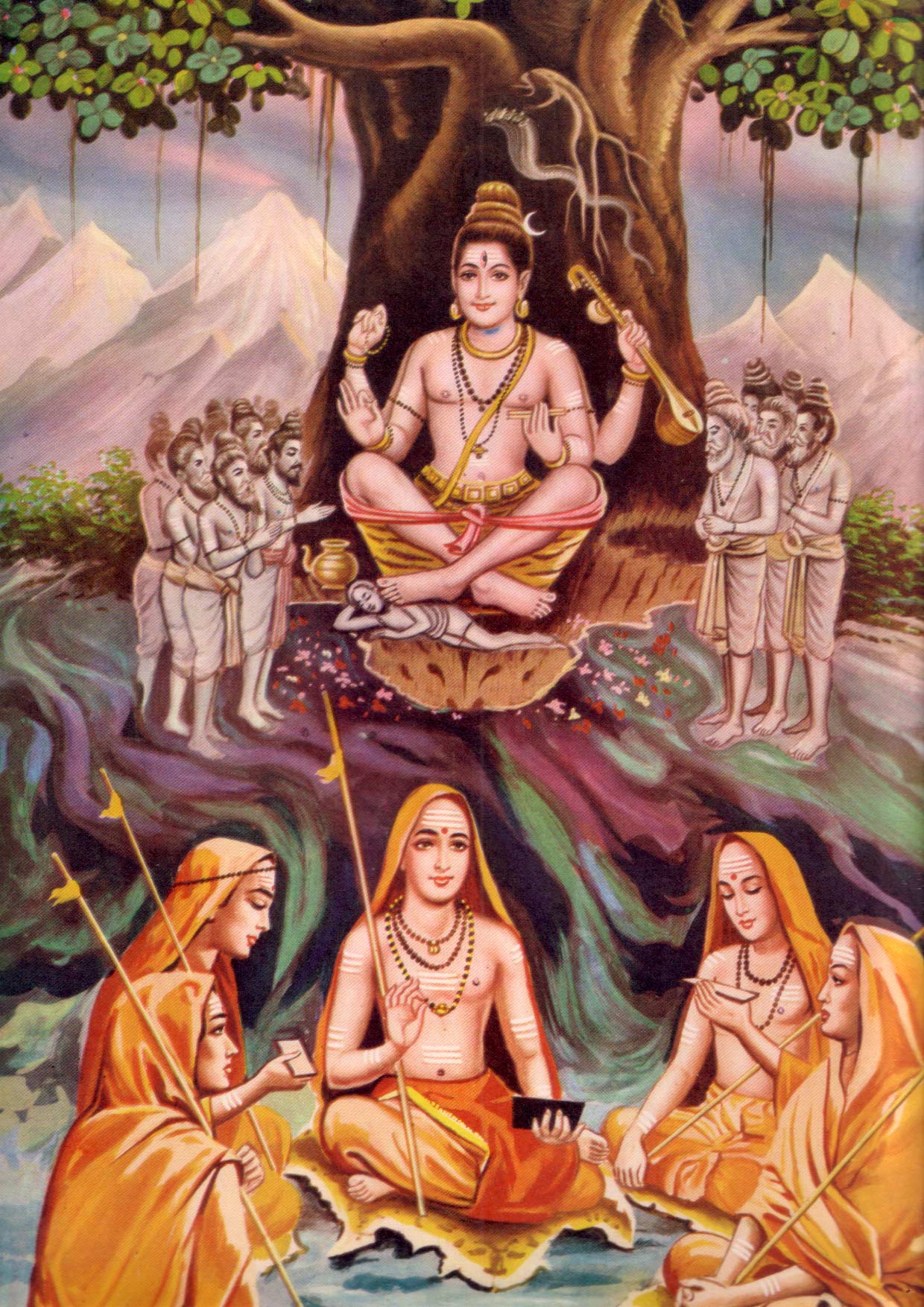 Panchakam Adi Shankaracharya Sadhana
1. Estudo do diário Vedas.
Executar diligentemente as tarefas (karmas) ordenado por eles.
Dedique todas as ações (karmas), como adoração ao Senhor.
Renuncie todos os desejos da mente.
Purifique-se de suas faltas.
Reconhecer que os prazeres dos sentidos, objetos (samsara) estão crivadas de dor.
Busque o Self com o esforço consistente.
Fuja da prisão do "lar".
1. Study the Vedas daily.
Perform diligently the duties (karmas) ordained by them.
Take all the actions (karmas) as worship unto the Lord.
Renounce all desires of the mind.
Cleanse themselves of their faults.
Recognise that the pleasures of the senses, objects (samsara) areriddled with pain.
Seek the Self with consistent effort.
Escape from the prison of "home."
2. Procurar a companhia de homens e mulheres com sabedoria.
Seja estabelecido na devoção firme no Senhor.
Cultive as virtudes, como Shanti (Serenidade)
Abstenha-se todas as ações cheias de desejo.
Abrigue-se em um Mestre Perfeito (Sat-Guru).
Todos os dias sirva os Seus pés de Lotus.
"Om" Adore o Imutável.
Ouça em profundidade, as declarações dos Upanishads.
2. Seek the company of men ( or woman)of wisdom.
Be established in firm devotion to the Lord.
Cultivate the virtues such as Shanti (Serenity)
Refrain from all actions that are full of desire.
Take cover in a Perfect Master (Sat-Guru).
Every day serving His lotus feet.
"Om"Worship the changeless.
Listen in depth, the declarations of the Upanishads.
3. Reflita sempre sobre o significado dos mandamentos Upanishads, e refugie-se na verdade de Brahman.
Evite argumentos perversos, mas siga a lógica discriminativo dos Sruti (Upanishads).
Sempre esteja absorvido na atitude (Bhav) - "Eu sou Brahman".
Renuncie ao orgulho.
Perceba o equívoco ilusório - "Eu sou o corpo".
Desista totalmente a tendência de argumentar com os sábios.
3. Always be mindful of the significance of the commandmentsUpanishads, and take refuge in the truth of Brahman.
Avoid perverse arguments but follow the logic breakdown of Sruti(Upanishads).
Always be absorbed in the attitude (Bhav) - "I am Brahman. "
Renounce pride.
Note the illusory misconception - "I am the body '.
Give totally tend to argue with the wise.
4. Na "privação" doenças são tratadas.
Diariamente tome o alimento como medicamento.
Viva sem necessidade de comidas deliciosa.
Viva contente em tudo o que vem a você como ordenado por Ele.
Suporte todos os pares de opostos: frio e calor, e assim por diante.
Evite conversas inúteis.
Seja indiferente.
Salve-se das malhas da bondade dos outros.
4. In the "famine" conditions are treated.
Daily take food as medicine.
Living without food delicious.
Live happy in everything that comes to you as ordained by Him
Support all pairs of opposites: cold and heat, and so on.
Avoid unnecessary conversations.
Be indifferent.
Save yourself from the meshes of the kindness of others.
5. Na solidão, viva com alegria.
Aquiete sua mente no Senhor Supremo.
Realize e veja o Self que permeia todos os lugares.
Reconheça que o Universo é finito uma projeção do Self.
Conquiste os efeitos dos atos feitos em vidas anteriores e a presente ação direita.
Com a sabedoria defina ações futuras (Agami).
Experiêncie e escape de "Prarabdha" os frutos de ações passadas.
A partir daí, viva absorto no Bhav - "Eu sou Brahman"!
5. In solitude, living with joy.
Quiet your mind on the Supreme Lord.
Carry out and see the Self that permeates everywhere.
Recognize that the universe is finite a projection of the Self.
Conquer the effects of acts done in previous lives and this rightaction.
With the wisdom to define future actions (Agami).
Experience and escape "Prarabdha" the fruits of past actions.
From there, live absorbed in Bhav - "I am Brahman"!