yuktãhãravihãrasya
yktacestasya karmasu
yuktasvapanãvabodhasya
yogo bhavati duhkhahã
The path of meditation requires a moderate, regulated life, avoiding too much or too litlle food, work, and sleep, or use de senses. The attention must abide in the soul at all times. For such a person, yoga destroys all sorrows. (17)
O caminho da meditação exige uma vida moderada , equilibrada, evitando o consumo de muita ou de pouca comida , trabalho , dormir, ou usofruto dos sentidos. A atenção deve permanecer na alma em todos os momentos. Para essa pessoa, yoga destrói todas as dores. (17)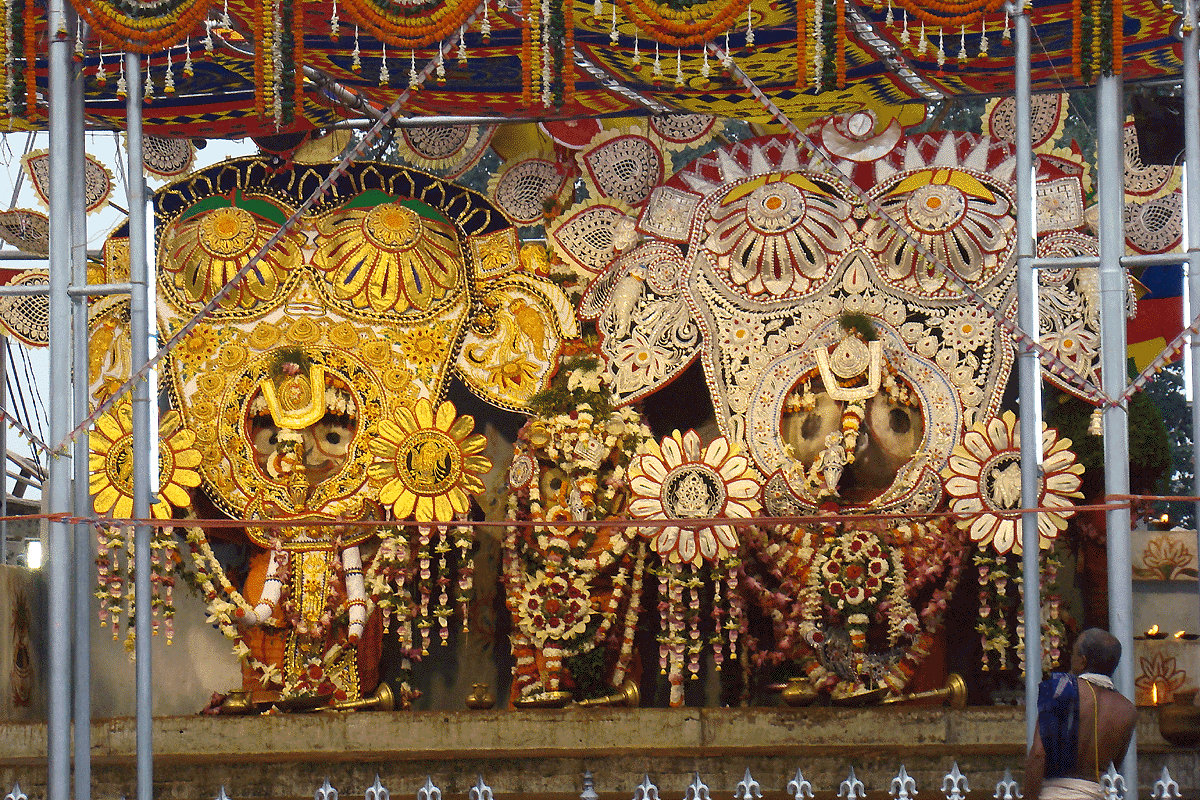 Graças Senhor do Universo
Thank You Lord of the Universe
Jai Jagannath!
Sou grata a cada dia, com tudo o que Você traz
I am grateful every day with everything You brings
Quando desperto do sono, é como se eu ressucitasse da morte
When waking from sleep, it's like I rose from the dead
Nada parece belo ou sublime através dos meus olhos mortos
Nothing seems beautiful or sublime
through my eyes dead
Cuido deste corpo que é o templo de Deus vivo
I take care of this body is the temple of the living God
Sento para meditar e fazer minhas orações
I sit down to meditate and do my prayers
Peço para continuar morta se não for para interagir com toda a criação
I beg to remain dead if not to interact with all of creation
vivendo e despertando para a Alma
experiencing an awakening to the Soul
com a Energia da Mãe Divina e o sopro de Deus Pai Universal
with the Energy of the Divine Mother and the breath of God the Father Universal
eu nada mais sou do que a matéria vivificada por esta Luz Divina
I am nothing more than matter vivified by the Divine Light
Vivificada por este Som Divino
Enlivened by this Divine Sound
Vibrando de Amor na Sinfornia Cósmica
Vibrating Love in Cosmic Sinfornia
Tudo é perfeito quando estou em sintonia
Everything is perfect when I'm in tune
Tudo é perfeito quando os centros de energia estão alinhados
Everything is perfect when the energy centers are aligned
Tudo é perfeito quando meu corpo, que é um instrumento musical , está afinado
Everything is perfect when my body
which is a musical instrument is tuned
E se deixa tocar por Mahashakti que corre ao encontro de Shiva
And if that makes play for Mahashakti run to meet Shiva
Eles dançam dentro mim
They dance within me
E nos tornamos um só Corpo e uma só Mente
And we become one body and one mind
Até estarmos prontos para a fusão com o Senhor do Universo
Until we're ready to merge with the Lord of the Universe
Somos Um com Ele em silêncio
We are one with Him in silence
Somos um com Ele na respiração suave
We are with him in a soft breath
Somos um com ele na ausência da respiração
We are one with him in the absence of breathing
Mais uma vez o sol nasce dentro de mim
Again the sun rises in me
E eu pertenço a Ele que é o Tudo e o Nada
And I belong to Him who is Everything and Nothing
A Sinfonia Cósmica Universal é Divina
The Cosmic Symphony Universal is Divine
Eterna e Infinita
Infinite and Eternal
Graças ao Senhor do Universo!
Thank the Lord of the Universe!
Jai Jagannath!
Eni