kãyena manasã buddhyã
kevelair indriyair api
yoginah karma kurvanti
samgam tyaktvã 'tmasuddhaye
With the help of body, mind , intellect , and sense organs , the karma yogi works in a detached way for self purification. (11)
Com a ajuda do corpo, mente, intelecto e órgãos dos sentidos, as obras do karma yogi são uma forma individual de purificação de si mesmo. (11)
Stretches of the divine speech by my beloved Guruji , can help us to understand.
Trechos do divino discurso do amado Guruji , podem nos ajudar a entender
The speech in its entirety at this link:
O discurso na sua íntegra está neste link:
Sthita Prajna - October 2010 | Volume 11, Issue IV
THE INVERTED TREE
A ÁRVORE INVERTIDA

Yudhishtira is the tree of righteousness, Arjuna the trunk, Bhima the branches, the sons of Madri are the luxuriant fruits and flowers, Krishna, the sacred, the Absolute, is the root of this tree. (Adiparva 1:111)
Yudhishtira é a árvore da justiça, Arjuna o tronco, os galhos Bhima, os filhos de Madri são as frutas e flores exuberantes, Krishna, o sagrado, o Absoluto, é a raiz dessa árvore. (Adiparva 1:111)
There are seven chakras
Existem sete chakras
The seventh is the abode of God, the Almighty father.
O sétimo é a morada de Deus , do Pai Todo Poderoso
The sixth center is the place of a personal deity like Rama, Krishna, Abraham, Jesus, Moses or Mohammad.
O sexto centro é o lugar de uma divindade pessoal, como Rama, Krishna, Abraão, Jesus, Moisés ou Maomé.
The five Pandava brothers can also be associated with the chakras in the body.
Os cinco irmãos Pandavas também podem ser associados com os chacras do corpo.
The fifth center is the vacuum center or the center for intellectual activity, represented by Yudhishthira the eldest brother of the Pandava clan.
One who is calm is known as Yudhishthira .The vacuum center is an empty space, so there is no question of restlessness there.
Yudhishthira represents the tree of knowledge, calmness and spirituality.
O quinto centro é o centro de vácuo ou o centro de atividade intelectual, representada por Yudhishthira o irmão mais velho do clã dos Pandavas. Aquele que é calmo é conhecido como Yudhishthira. O centro do vácuo é um espaço vazio, por isso não há dúvida de agitação lá. Yudhishthira representa a árvore de calma, conhecimento e espiritualidade.
Bhima is symbolized as branches and leaves. The second Pandava brother was the son of air representing the heart center.
Bhima é simbolizado como galhos e folhas. O irmão Pandava era o segundo filho do ar, representa o centro do coração.
Bhima is considered as an able administrator as he (breath) controls and regulates the whole body tree.
Bhima é considerado um hábil administrador e ele ( a respiração) controla e regula toda a árvore do corpo
Breath control is achieved when the branches of the tree are in good working order.
O controle da respiração é alcançada quando os ramos da árvore estão em bom estado de funcionamento.
When spiritual seekers control their breath to regulate their lives, they live long lives of peace, bliss and joy.
Quando os buscadores espirituais controlam sua respiração para regular suas vidas, eles vivem uma vida longa de paz, felicidade e alegria.
They are free from body consciousness and live in soul consciousness.
Eles estão livres da consciência do corpo e vivem em consciência da alma.
Arjuna é o troncoAssim como defende o tronco do corpo, alimentação sustenta o corpo. Arjuna foi o melhor dos Pandavas. Sua força interior, disciplina, auto-controle e de prontidão para ajudar em qualquer situação sempre fez sucesso.
The children of Madri are the fruits and flowers of the body tree
Os filhos de Madri são as frutas e flores da árvore do corpo
Nakula means no end to sexual desire.The metaphorical meaning is, "endless desires can be transformed into good company." We pay too much attention to sexual desire, which is not good for our all round development.
Nakula significa que não há fim para o desejo sexual. O significado metafórico é, "desejos infinitos podem ser transformado em boa companhia." Nós damos muita atenção ao desejo sexual, que não é bom para o nosso desenvolvimento integral.
Sahadeva means "the wealth and money that comes from the ground." The twins are compared to flowers and fruits of the body tree. People immersed in worldly activities relish money and physical pleasure.These centers should be used in moderation but life should be lived with joy and satisfaction.
Sahadeva significa "a riqueza eo dinheiro que vem da terra." Os gêmeos são comparados com flores e frutos da árvore do corpo. Pessoas imersas em dinheiro atividades mundanas gosto e prazer físico. Estes centros devem ser usados com moderação, mas a vida deve ser vivida com alegria e satisfação.
In every action, a seeker should be God conscious
Em cada ação o aspirante deve estar na Consciência de Deus.
Krishna is the root of everything in the world.
Krishna é a raiz de tudo no mundo.
Krish means the cultivable land and na is the formless power of God.
Krish, a terra cultivável e nd é o poder sem forma de Deus.
Every human being is a form of cultivable land (Bhagavad Gita (13:1) Krishna the formless power is all pervading remaining at the root of the body tree. He is the root of everything.
Todo ser humano é uma forma de terra cultivável (Bhagavad Gita (13:1) Krishna o poder sem forma é onipresente á partir raiz por toda a árvore do corpo. Ele é a raiz de tudo.
Krishna e Radha é a união da alma com o corpo
Krishna and Radha is the union of soul and body
The Vedas state, Sarvam khalvidam brahma - everything is divine (Chandogya Upanishad 3:14:1).
O estado Vedico ,
Sarvam brahma khalvidam
- tudo é divino (Chandogya Upanishad 03:14:01).
When a spiritual seeker is immersed in soul consciousness his body tree is divine.
Quando um buscador espiritual está imerso na consciência da alma seu corpo árvore é divino.
Although the body is essentially divine people become engrossed in material activities, forgetting God. They become like the Kauravas.
Embora o corpo seja essencialmente divino , as pessoas se absorvem em atividades materiais, esquecendo-se de Deus. Eles se tornam como os Kauravas.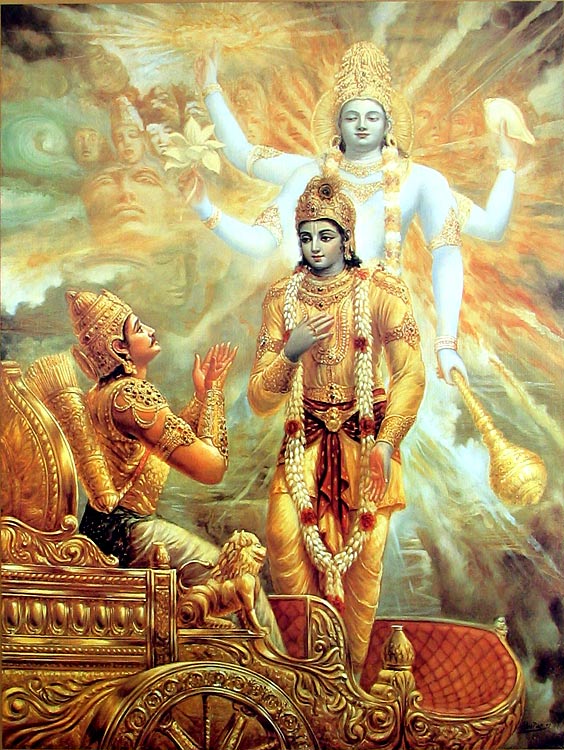 If the desire for spiritual evolution is strong, a seeker should proceed on the path of realization.
Se o desejo de evolução é grande, um candidato deve seguir no caminho da realização!
During this effort the guidance of a realized Master is a great privilege.
Durante esta jornada a orientação de um Mestre Realizado é um grande privilégio
I bow down to Sri Gurudev