jneyah sa nityasamnyãsi
yo na dvesti na kãnksati
nirdvando hi mahãbãho
sukam bandhãt pramucyate
The person who neither hates nor desires , and who balanced all the pairs of opposites, should be recognized as the one who has the spirit of renunciation. O mighty-armed Arjuna, such a person is free from duality, such a person is easily set free from bondage. (3)
A pessoa que não odeia nem deseja, e é equilibrada todos os pares de opostos, deve ser reconhecida como aquela que tem o espírito de renúncia. Ó Arjuna de braços poderosos, essa pessoa está livre de dualidade, essa pessoa é facilmente libertada do cativeiro. (3)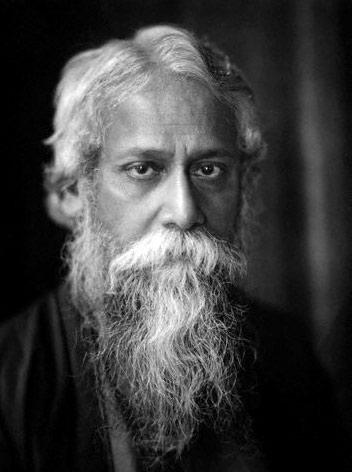 Mystical Song of Rabindranat Tagore
by Paramahamsa Hariharanandaji
Let My Heart Blossom
Deixe Meu Coração Florir
antara mama vikasita karo antara tara he
nirmakala karo, ujjvala karo, sundara karo he
jagrata karo niralasa karo nihsamshaya karo he
ykta karo he sabar sange mukta karo he bhandha
sanchara karo sakala karma shanta tomar chhanda
charana padme mama chitta nispandita karo he
nandita karo, nandita karo, nadita karo he
Allow , my heart to blossom with Your grace, O my dearest Lord
Clean me , enlighten me, and make me beautiful.
Awaken me, make me ready, and make me dependable.
Make my life auspicious, free from laziness and doubts.
Unite me with all; free those who are in bondage.
Make everyone work in Your peacefull rhythm.
Let my heart rest at lotus of Your feet.
Bless me, bless me, and bless alone me.
Permita , meu coração a florescer com a Tua graça, ó meu querido Senhor
Lave-me, me ilumine e me faça bela.
Acorde-me, faça-me pronta, e me faça confiável.
Faça minha vida auspiciosa, sem preguiça e sem dúvidas.
Una-me com todos; liberte aqueles que estão em cativeiro.
Faça com que todos trabalhem no seu ritmo tranquilo.
Deixe meu coração descansar no Lotus dos seus pés.
Abençoa-me, abençoa-me, e abençoa-me sozinho.
Paramahamsa Hariharananda Maharaj
divine explanations of my beloved Paramgurudev
explicações divinas do meu amado Paramgurudev
Except God , no one can fulfill this quality.
Exceto Deus, ninguém pode atender a essa qualificação.
The heart is like a flower. Some flowers bloom in sunlight, and some flowers in moonlight
O coração é como uma flor. Algumas flores desabrocham na luz do sol, algumas flores ao luar
This song is a humble submission and loving demand of the child to the Father or the Divine Mother.
Esta música é uma humilde submissão e demanda de amor do filho para o Pai ou a Mãe Divina.
The flower wich bloom with the light of the sun is more colorfull.
As flores que desabrocham com a luz do sol são mais coloridas.
The flower wich blooms in the evening has a more beautiful fragrance.
A flor que floresce à noite, tem uma fragrância mais linda

.
When the flower of the heart , or the flower of life , blossoms , it blossoms with surrender to God , not with the ego and pride.
Quando a flor do coração, ou a flor da vida, floresce, floresce com que entrega a Deus, não com o ego e o orgulho.
Paramahamsa Prajnanananda Maharaj
divine explanations of my beloved Gurudev
explicações divinas do meu amado Gurudev
Througth self-discipline , imersed in deep meditation, seekers enter the state of superconsciousness, or perfect union with the Absolute.
Auto-disciplina do pensamento , imersos em profunda meditação,procurem entrar no estado de superconsciência, ou na perfeita união com o Absoluto.
A pure mind is the abode of God.
Uma mente pura é a morada de Deus.
Be a yogi- the devotee sollows the direct guidance of a qualified guru and becomes a Yogi.
Seja um Yogi - o devoto segue a orientação direta de um guruqualificado e se torna um Yogi.
Only a Yogi can achieve emancipation and knowledge. This is the true meaning of Self- realization.
Apenas um Yogi pode alcançar a emancipação e conhecimento. Este é o verdadeiro sentido da Self-realização.
om brahmarpanamastu
Let this work be offered to God
Deixe esse trabalho ser oferecido a Deus
I bow down to Sri Gurudev!