kaãnksantah karmanam siddhim
yajanta iha devataã
ksipram hi maãuse loke
siddhir bhavati karmajã
Many seek material gain and worship many gods to acquire the fruits of their actions, for in the human world, results born of action come very quickly. (12)
Muitos buscam o ganho material e adoram muitos deuses para adquirir frutos de suas ações, pois no mundo humano, os resultados nascido da ação vêm muito rapidamente. (12)
A ilusão da matéria como fonte de prazer
The illusion of matter as a source ofpleasure
Animalidade humana deficiente
Deficient human animality
Oh Maha Kali!
O nome Kali tem suas raízes na palavra sânscrita "Kaal", que significa tempo. E nada escapa do tempo.Kali traz a morte do ego individualista .Maa Kali é quem mantém a energia do celibato e da renúncia da ação.Ela oferece a salvação ou a libertação de seus filhos, mostra que o corpo é temporário.
The name Kali has its roots in the Sanskrit word "Kaal", which means time. And nothing escapes tempo.Kali bringsindividualistic ego death. Maa Kali is the energy of celibacy and renunciation of ação.Ela offers salvation or liberation of their children, shows that the body is temporary.
Pessoas que estão ligados a seu ego não conseguem conceber a idéia de Maha Kali e ela vai tomar a forma colérica para eles. Mas as pessoas que estão engajados na espiritualidade, removendo a ilusão do ego, vão encontrar Maha Kaali de uma forma diferente.Maa Kali aparece como doce, carinhosa e cheia de amor desconcertante para eles.
People who are attached to their ego can not conceive of MahaKali and she will take the wrathful form for them. But people who are engaged in spirituality, removing the illusion of ego, MahaKaali will find a different way. Maa Kali appears as sweet, caringand loving disconcerting for them.
Adishakti : energia primordial que rege o universo
Adishakti: primordial energy that rules the universe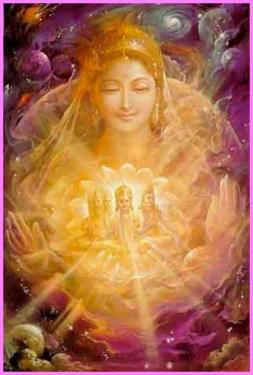 Shakti é a Mãe Divina da criação de manifesto, visualizada como uma forma feminina, e Shiva é especificamente o Absoluto Manifesto. A feroz ou preto (Asita) formas de incluir a Deusa Kali, Durga, Chandi, Chamundi, Bhadrakali e Bhairavi. O benigno ou branco (Sita) formas incluem Uma, Gauri, Ambika, Parvati, Maheshvari, Lalita e Annapurna. Como Rajarajeshvari ("rainha divino dos reis"). Ela é a deidade que preside o yantra Sri Chakra.
Ela também é adorada como o Mahavidyas dez manifestações do mais alto conhecimento - Kali, Tara, Shodashi, Bhuvaneshvari, Chinnamasta, Bhairavi, Dhumavati, Bagata, Matangi e Kamala.
Mahavidya
Shakti, é experimentada dentro do corpo humano em três aspectos:
Shakti, is experienced within the human body in three aspects:

1) a força feminina, ida shakti,

2) a força masculina, shakti pingala e

3) o andrógino força pura, shakti kundalini, que flui através do sushumna nadi.

1) the feminine force, ida shakti,

2) the masculine force, shakti and Pingala

3) the androgynous pure force, kundalini shakti, that flows through the sushumna nadi.



Shakti é mais facilmente vivida pelos devotos como a energia, êxtase sublime inspirador que emana de uma pessoa sagrada ou templo hindu santificados.

Shakti is most easily experienced by devotees as energy,inspiring sublime bliss that emanates from a holy person orsanctified Hindu temple.
Jai Gurudev!
Kali usa um colar feito de 52 crânios e uma saia feita de braços desmembrados porque o ego surge da identificação com o corpo. O corpo físico é falso e o espírito é a única realidade. Sua pele preta ou azul escura, por vezes, representa o útero da não manifesto a partir do qual toda a criação nasce e ao qual toda a criação, em última análise retorna. Portanto, os conceitos de cor, luz, escuridão, bom ou ruim, não se aplicam a ela como ela é energia pura, não-manifestada.
Kali wears a necklace made of 52 skulls and a skirt made ofdismembered arms because the ego arises out of identification with the body. The physical body is false and the spirit is the only reality. His black or dark blue, sometimes represents the womb of the unmanifest from which all creation is born and to which allcreation ultimately returns. Therefore, the concepts of color, light,dark, good or bad, do not apply to her as she is pure energy,non-manifested.
Maha Kali é vista de pé com um pé em Shiva, que é pura consciência amorfa Sat-Chit-Ananda (Ser-Consciência-Bem-aventurança), enquanto Kali representa a "forma" eternamente sustentada , a base da pura consciência.
Maha Kali is seen standing with one foot on Shiva, who is pureformless awareness Sat-Chit-Ananda(Being-Consciousness-Bliss), while Kali represents the "form "eternally sustained, the basis of pure consciousness.
Que morra em mim o que não é divino
Oh Mãe Kali cada uma das cabeças que você usa em torno da sua cabeça , são as raízes dos mantras neste meu corpo transitório e desgastado pelo espaço-tempo.
Me acolha e me ajude a matar os desejos ilusões que mantém o meu cativeiro nesta vida . Com sua rapidez certeira me ajude a matar os pensamentos, desejos e atos incoerentes com O Supremo Amor e Verdade!
Somente com a morte do ego que vive em busca de satisfação pessoal, posso chegar ao estado de pureza transcendental e participar do estado de Bem -aventurança eterna!
Quero estar fundida com a energia , na Dança Cósmica do Unverso!
Eni
May die in me what is not divine
Oh Mother Kali each head that you wear around your head, are the roots of my mantras in this transient body and worn by time and space.
Welcome me and help me kill the wishes illusions that keeps mycaptivity in this life. With his unerring speed help me to kill the thoughts, desires and acts inconsistent with the Supreme Loveand Truth!
Only with the death of the ego that lives in the pursuit of pleasure, I can reach the transcendental state of purity and participate in thestate of eternal bliss!
Want to be merged with energy, in the Cosmic Dance of the Universe!
Eni
s
I bow down to Shree Gurudev!