All good and evil works are done by the qualities of nature, but the egoistical person thinks, " I am the doer". (27)
Todas as boas obras e as obras do mal são feitas pelas qualidades da natureza, mas a pessoa egoísta pensa, "Eu sou o executor". (27)
O conhecimento das três Gunas, que sustentam o universo inteiro e todas as criaturas sob seu domínio, é de vital importância para todos e cada um para o seu progresso e felicidade na vida.
Knowledge of the three Gunas, which hold the entire universe and all creatures under his control, is of vital importance to each and every one for your progress and happiness in life.
Sem esse conhecimento, seremos sempre tomados pelo desânimo ou pela prepotência egoísta e nunca seremos libertos do cativeiro da ilusão
Without this knowledge, we are always taken by discouragement or the oppression selfish and will never be freed from the bondage of illusion
Este conhecimento é o segredo do sucesso na vida terrena, assim como na vida espiritual. Portanto, adquirir este conhecimento precioso é dar um passo na evolução da espiritualidade.
This knowledge is the key to success in this life, as well as spiritual life. So get this precious knowledge is a step in the evolution of spirituality.
Lord Krishna reveals that these three qualities make up the cosmic nature.
Esta natureza cósmica é a fonte primordial ea origem de toda a criação e todas as coisas nele. Assim todas as coisas criadas estão sujeitas à sua influência e poder irresistível.
This cosmic nature is the primary source and the source of all creation and all things therein. Thus all created things are subject to their influence and overwhelming power.
A alma individual também está ligada ao corpo por essas três qualidades presentes na Natureza Cósmica. O Ser Supremo criou tudo o que existe, com a ajuda da Sua Prakriti (Natureza) dotada das tres qualidades. O Universo é criado, dissolvido e permanece latente em ciclos. E nós somos parte do Universo.
The individual soul is also connected to the body by these three qualities present in the Cosmic Nature. The Supreme ( Purusha) Being created everything that exists, with the help of His Prakriti (Nature) endowed with the three qualities. The Universe is created, dissolved and remains latent in cycles. And we are part of the universe
A maior das três qualidades é Sattwa. É pura. Ela traz iluminação felicidade, sabedoria e também.
S
atwa o modo da bondade :
equanimidade, controle dos sentidos, a tolerância, a discriminação, a penitência, veracidade, compaixão, a lembrança, o contentamento, a renúncia, a liberdade do desejo, fidelidade, humildade e prazer interior
The largest of the three qualities is Sattwa. It's pure. She brings happiness enlightenment, wisdom and também.Satwa the mode of goodness:
equanimity, sense control, tolerance, discrimination, penance, truthfulness, compassion, remembrance, contentment, renunciation, freedom from desire, loyalty, humility and inner joy
A segunda qualidade de Rajas dá origem a paixão se manifesta por intenso apego e da ganância. Ela causa dor e sofrimento.
É o modo da paixão que é : a luxúria, esforço, vaidade, insatisfação, orgulho falso, a busca de bênçãos, o separatismo, a gratificação dos sentidos , imprudência, o amor de louvor, ridicularização, exibição de bravura e punir duramente.
The second quality of Rajas gives rise to passion manifested by intense attachment and greed. It causes pain and suffering.
Mode of passion which is lust, effort, vanity, dissatisfaction, false pride, seeking blessings, separatism, the sense-gratification, recklessness, love of praise, ridicule, displaying bravery and punish severely.
A terceira, denominado Tamas, é a pior de todas. Ela surge devido à ignorância e resulta em letargia escuridão e ilusão.
modo da ignorância se caracteriza como a intolerância, a ganância, falsidade, violência, chamando a atenção , a hipocrisia, a indiferença, discussão, a lamentação, a desilusão, o sofrimento da depressão, preguiça, falsas expectativas, medo e preguiça.
The third, called Tamas, is the worst. It arises because of ignorance and darkness results in lethargy and delusion.
mode of ignorance is characterized as intolerance, greed, falsehood, violence, highlighting the hypocrisy, indifference, discussion, mourning, disappointment, suffering from depression, laziness, false expectations, fear and laziness.
O que precisamos modificar ou eliminar em nós, na nossa natureza?
What we need to modify or eliminate in us, in our nature?
Durga, a Grande Mãe, nasceu da união de todas as energias das divindades masculinas desgastadas pela luta sem fim, com oAsuras (demônios).
Durga, the Great Mother, was born of the union of all the energies of the male deities worn down by endless struggle with oAsuras (demons).
Em seus muitos braços entregues os emblemas de todas as divindades. Sua força é terrível. A porção Feminina de Deus ( Durga ) derrota Mahishasura, um demônio poderoso que compromete o equilíbrio de todo o universo. Ela mata ele várias vezes, mas cada vez o demônio fica ainda mais forte e mais terrível assumindo várias formas .
Delivered in her many arms the emblems of all deities. His strength is terrible. The portion Women of Allah (Durga) defeat Mahishasura, a powerful demon that affects the balance of the entire universe.She kills him several times but each time the devil is even stronger and more terrible can take various forms.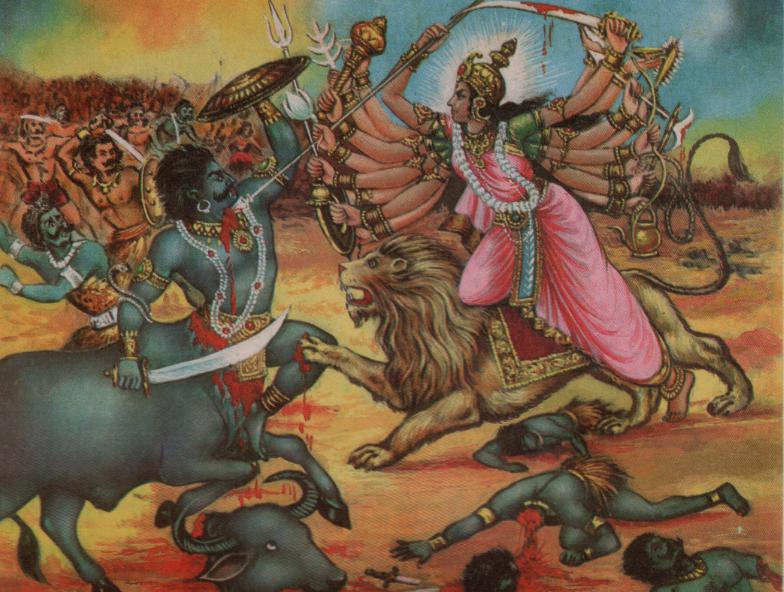 Finalmente, Durga corta a cabeça de Mahishasura e mata o demônio definitivamente. Finalmente, oa Devas (Seres divinos) podem relaxar e honraram Durga solenemente que desde então é também chamada de Mahishasuramardini (Ela que matou Mahisha o grande demônio).
Finally, cut the head of Durga and Mahishasura definitely kills the demon. Finally, the the Devas (heavenly beings) can relax and worshiped Durga solemnly that since then is also called Mahishasuramardini (She Mahisha that killed the great demon).
A Grande Mãe , Durga nos ajuda a matar as forças do mal em nós , para isso devemos estar atentos e vigilantes e sempre ter a intenção de fazer o melhor e praticar isso, cultivar a bondade a sinceridade e a espiritualidade a cada dia pois estamos sujeitos às forças das tres gunas dentro de nós.
A pratica sincera da Kriya Yoga nos possibilita vivenciar em nosso interior e no mundo à nossa volta esta batalha do bem e do mal, podemos sentir a energia de Durga em cada chakra matando as nossas tendências tamas e rajas. Nossa disciplina espiritual é a unica forma que temos de cultivar o bem.
The sincere practice of Kriya Yoga enables us to live within us and the world around us, this battle of good and evil, we can feel the energy of each chakra Durga killing our tendencies tamas and rajas. Our spiritual discipline is the only way we can cultivate the good.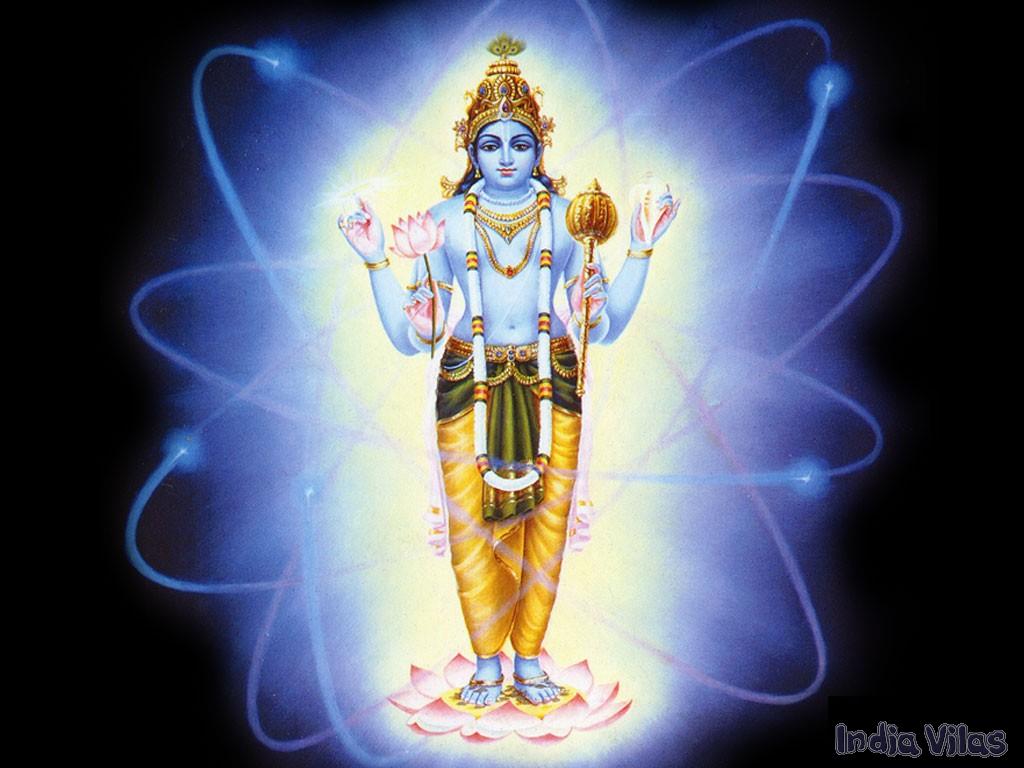 Krishna nos pede para procurar diligentemente expulsar Tamas da nossa natureza. Devemos controlar e dominar Rajas e sabiamente desviar o seu poder para os tipos de boas atividades. Sattwa deve ser cuidadosamente cultivada, desenvolvida e conservada de modo a permitir-nos alcançar a imortalidade. O sábio é claro, vai além de todas essas qualidades, pois, embora seja Sattwa que lhe permite chegar a Deus, até mesmo essa qualidade irá prendê-lo se ele for ligado a ela.
Krishna asks us to diligently seek to expel Tamas of our nature. We must control and dominate Rajas and divert your power wisely for the best types of activities. Sattwa must be carefully cultivated, developed and maintained to enable us to achieve immortality. The wise course, goes beyond all these qualities, because, although Sattwa which allows you to God, even this quality will arrest him if he is attached to it.
O aspirante deve conhecer os sintomas e sinais da sua presença em sua personalidade e adquirir um conhecimento do seu funcionamento sutil. Então, ele pode manter um progresso sem entraves e suave em todas as atividades de sua vida, tanto material como espiritual. . Ele declara que aquele que se eleva além de todos as três Gunas através de práticas espirituais, torna-se livre do nascimento, morte, velhice e tristeza, e goza de imortalidade.
The aspirant should know the symptoms and signs of their presence in his personality and acquire a knowledge of their subtle workings.Then it can maintain a smooth and unimpeded progress in all activities of his life, both material and spiritual. . He declares that he who rises beyond all the three Gunas through spiritual practices, becomes free from birth, death, old age and sorrow, and enjoys immortality.
Em resposta a uma pergunta de Arjuna, o Senhor descreve as características de alguém que se elevou acima das três Gunas. Ele afirma que, aquele que tem devoção e é perseverante na prática espiritual irá alcançar a experiência mais divina , suprema paz e bem-aventurança.
In response to a question from Arjuna, the Lord describes the characteristics of someone who has risen above the three Gunas.He says that he who is steadfast devotion and spiritual practice will achieve the experience more divine, supreme peace and bliss.
As três gunas estão presentes em todos os seres humanos.Ninguém está livre da ação de qualquer uma das três qualidades. Elas não são constantes. Às vezes predomina Sattva e em outras vezes Rajas ou Tamas predomina. Deve-se analisar e servir como testemunha dessas três qualidades
The three gunas are present in all humans. No action is free from any of the three qualities. They are not constant. Sometimes Sattva predominates and at other times or Rajas Tamas predominates.They should study and serve as a witness of these three qualities
O sábio sabe que as Gunas são as únicas responsáveis por todas as ações e ele é desapegado delas.
A prática de Kriya Yoga sincera e com as orientação do Guru purifica nosso corpo e nossa mente.
The wise know that the gunas are solely responsible for all actions and it is distinct from them.
The practice of Kriya Yoga and sincere with the guidance of Guru purify our body and mind.
E um dia poderemos nos libertar dos tres estados da natureza do ego e da mente e realmente perceber que nada fazemos quem faz e vive em nós é Deus Absoluto.
So one day we can free ourselves from the three states the nature of the ego and mind and really realize that nothing we do and who lives in us is God Absolute.