Fix your mind on Me. Dedicate all your actions, desire, ego and mental effort to Me; completely surrender yourself; being free from expectation and egoism, fight (03:30)
Fixe sua mente em mim. Dedique todas as suas ações, o ego, desejo e esforço mental para mim, se entregue completamente, sendo livre de expectativa , de egoísmo, e disputa (03:30)
Ah Senhor Krishna
Bhagavan ,
Você que é a forma mais pura e bela de Deus Absoluto, criou esta forma para mostrar para nós que fomos criados à Sua imagem e semelhança! Nos somos moldados com a sua forma mas nos nos mantemos vivos com o seu Espírito , você
Paramatmã
vive ao lado de nossa alma individual
jivaatma
sempre misericordioso oferecendo sua ajuda para a nossa evolução individual e coletiva.
Oh Bhagavan Sri Krishna, You who are the purest and most beautiful of the Absolute God, who created this way to show us that we were created in His image and likeness! We are molded with their form but we keep alive in your Spirit,
Paramatma
You live next to our individual soul
jivatma
always merciful offering his help to our individual and collective evolution.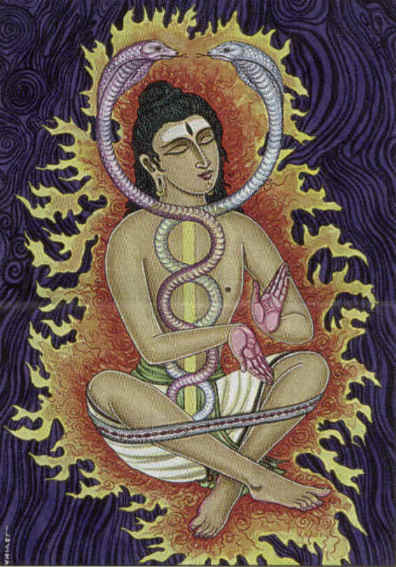 Nós só estamos vivos com a Sua divina presença em Nós , se respiramos com você, unidos a você todas as nossas ações ( Karma) serão Kriya. Nós o encontramos dentro de nós ao lado da nossa
jivatma
que não se corrompe nos ciclos de reencarnação.
We're just living with Your divine presence in us, if we breathe in, attached to You, all our actions (
Karma
) will
Kriya
. We find You within ourselves to stand with our
jivatma
not perish in the cycles of reincarnation.
Embora ainda presos ao sansara e à lei do Karma , Você nos faz sentir atraídos por tudo o que é
Sattwico
: (
Tamas
- inércia, ignorância , inatividade e
Rajas
-ação, reação e paixão
Sattwa
- bondade, pureza e conhecimento). Quando cantamos Seu Santo nome em profunda meditação (
japa sadhana)
Você é como um fogo que vai queimar todos os desejos em cada centro do nosso corpo humano , Você é a
fonte do Equilibrio e Superação ,Grandeza e Misericórdia nós somos os servos dos seus servos.
While still attached to samsara and the Law of Karma, You make us feel drawn to anything that is Sattwico: (Tamas - inertia, ignorance, inactivity, and Rajas-action, reaction and passion Sattwa - goodness, purity and knowledge). When we chant His holy name in deep meditation (japa sadhana) You're like a fire that will burn all the desires of our heart into every human body, You are the source of Balance and Overcome, Greatness and Mercy we are the servants of his servants .
quando reconhecemos em nós a miséria humana no estado de
Tamas
e
Rajas,
percebemos o quanto somos ingratos e negligentes esquecendo de Você. Sua presença como um bebê destemido e poderoso nos atrai. Sentimos desejo de acalentá-lo , nutri-lo e protegê-lo em nós (como pais e mães zelosos e vigilantes) , reconhecemos a divindade crescer em nós em todos e e em tudo o que existe. Mesmo sabendo que você não precisa do nosso cuidado mas nós sim do seu.
when we recognize in us, the human misery in the state of Rajas and Tamas, we are aware
how we are ungrateful and negligent of forgeting You .Your presence as a fearless and powerful baby attracts us. We feel the desire to cherish You, nurture You and protect You in us (as parents and zealous vigilantes), recognize the divinity in us all grow and and all that exists.
Even though you do not need our care but we do yours.
Na
auto-análise sincera reconhecemos que somos nós os únicos responsáveis pelas misérias
e ignorância
na nossa vida individual e coletiva. Você se apresenta como nosso grande e incomparável amigo , aquele que respira por nós para que tenhamos tempo de evoluir e nos realizar nesta vida .
Nos ensina como viver em um corpo humano com o potencial divino ( a sua presença incorruptível dentro de nós) , Você é Paramatmã a Grande Alma
In self-analysis we frankly acknowledge that we are the only ones responsible for the misery and ignorance in our individual and collective life. You introduce yourself as our great friend and unique, that breathes for us to have time to evolve and perform in this life.Teaches us how to live in a human body with the divine potential (his incorruptible presence within us), You are the Great Soul Paramatma
jivatma não tem gênero , e quando o reconhecemos , desejamos nos fundir com você e aí nossa devoção aflora com o amor verdadeiro e puro de uma esposa, que compartilha cada momento da vida até mesmo aqueles mais intimos como dormir na sua companhia!
Jivatma
has no gender, and when we recognize, we want to merge with you and then touches our devotion to the true and pure love of a wife who shared every moment of life even those most intimate like sleeping in your company!
como Senhor Jagannath você nos aceita sempre , independente de credo, nacionalidade, gênero, etnia, apesar de nossos pecados e karmas negativos, nos abraça fala conosco e nos olha com tanta ternura que é impossível resistir !
as Lord Jagannath you always accepts us, regardless of creed, nationality, gender, ethnicity, despite our sins and negative karmas, speaks to us and embraces us look at us with such tenderness that it is impossible to resist!
quando somos abençoados com a Tua Graça encontramos nosso SadGuru, aquele que vibra , emana suas vibrações e sons divinos nos cantos e palavras , aí temos Você mais próximo fora de nós também. Sua revelação mais pura e perfeita!
when we are blessed with Your Grace we find our Sadguru, one that vibrates,
emanating
vibrations and sounds from His corners and divine words, there we have You into and out of us too. Your most pure and perfect revelation!
Ele conhece a Verdade e nos ensina como amar e servir Você seja qual for a sua forma. Respeita nosso grau de evolução espiritual, nossas crenças, e nacionalidade. É puro Amor e Bondade !
He knows the truth and teaches us how to love and serve You in whatever form. Regards our degree of spiritual evolution, our beliefs, and nationality.He is pure Love and Goodness!
Quando encontramos o nosso Gurudev encontramos Você , os pés de lótus dele são os teus pés de lótus dele emana a sua Darshan , como é precioso seguir o exemplo e a disciplina daquele que fala no seu Santo Nome e nos abençoa!
When we find our Gurudev, we recognize You, his lotus feet are your lotus feet, from him emanates Your Darshan, how precious is to follow the example and discipline , He is that speak in your Holy Name, and he blesses us!
I bow to you in your lotus feet!